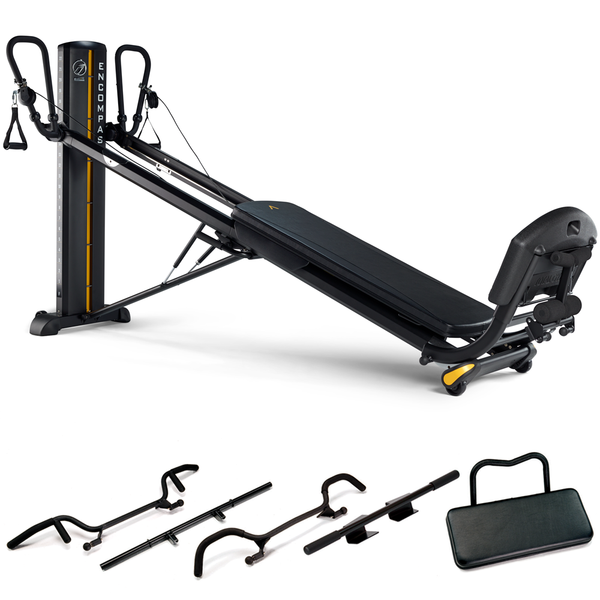 Total Gym ELEVATE Encompass™ Strength Package
Get the ELEVATE Encompass Strength Package and add more power to your fitness routine; includes ELEVATE Encompass and 5 accessories to add additional strength training exercises to your Total Gym workout. 

Includes the ELEVATE Encompass, Press Bar, Squat Handle Bar, Weight Bar, SCRUNCH Accessory and 3Grip Pull-up Bar to help develop increased muscle mass, tone and definition.
Item #: EESP17
Benefits
The ELEVATE Encompass Strength Package includes accessories that allow you to perform a variety of muscle building exercises for high performance strength training.
The Strength Package offers additional options for traditional strength workout exercises.
Benefits for the individual exerciser:
Add increased resistance to your exercise program

Engage the core for stabilization
Target abdominals
Intensify military press exercises for increased upper body strength
Provide security and safety during squat exercises
Offer three distinct grip positions for Pull-up exercises
Features
The ELEVATE Encompass Strength Package includes the following accessories:
Press Bar
For military-style press exercises with two grips.
Weight Bar
Add additional standard weight plates to achieve greater weight resistance above and beyond bodyweight.

Squat Handle Bar
Provides a solid handhold during squat exercises.

SCRUNCH Accessory
Stretch, strengthen and stabilize your entire core for targeted abdominal workouts.

3Grip Pull-up Bar
Get three distinct grip positions for pull-ups: wide, narrow and hammer.
Specs
ELEVATE Encompass along with 5
 accessories: Press Bar, Squat Handle Bar, Weight Bar, SCRUNCH Accessory, 3Grip Pull-up Bar
ENCOMPASS

Unfolded: 107" x 38" x 56.5" [L/W/H] (2.4 m x 1.0 m x 1.4 m)
Folded: 20" x 38" x 56.5" [L/W/H] (.5 m x 1.0 m x 1.4 m)
Tubing: 1.7" x 3.2" Aluminum Extrusion (4.4cm x 8.1cm)
Tower: reinforced steel, silver powder coating with internal level locking mechanism
User Weight: Rated to 350 lbs. body weight. (159 kg)
Maximum Load Capacity: 500 lbs. (295 kg) Inclusive of glideboard
User Height Limit: 6' 5" (2.0 meters)
Glideboard: 16" x 48" (41 cm x 122 cm). 7 position adjustable angles. Heavy duty, two-tone design, box stitched, tear resistant vinyl
Foam Padding: 1 1/2" (4 cm) high rebound, high density foam.
Rollers: Better Sealed precision ball bearings
Pulleys: ABS plastic protective shield over a steel frame, Nylon roller with precision ball bearings
Cables: 2000 lb. test (907.2 kg) nylon 12 coated steel aircraft cable
Handles: Soft synthetic rubber Padded Handles with ABS swivel handle and nylon webbing for hammer grip action
Frame & Rail Construction: Anodized Aluminum Rails with all connections reinforce by steel or forged aluminum
Unit Weight: 180 lbs (82 Kg)
Electrical: N/A
Resistance Levels: 22 calibrated incline levels, with release lever to lock rails into place. 1% - 62% bodyweight
Storage Capabilities: Hydraulic lift assists folding. Folds and stores upright. Rolls in hand-truck fashion.
Included Equipment: 7 position Adjustable Glideboard; Dynamic [unilateral/bilateral] Pulley System; Multi-point pulley attachment to tower; soft grip LAT Bars with 7 pulley positions; Folding Foot Holder; Telescoping Squat Stand with 3 height positions and folding platform
Rolling Range: 40" ( 1.0 meters)
Downloads
Encompass Owner's Guide
Strength Package Product Sheet
Press Bar Instructional Sheet
Weight Bar Instructional Sheet
Squat Handle Bar Regulator Instructional Sheet
SCRUNCH Instructional Sheet
3-Grip Pull-Up Bar Instructional Sheet
Warranties & Shipping
ENCOMPASS
Commercial Warranty

Frame - 5 years

Parts & Upholstery - 1 year

Foam & Rubber - 90 days

Warranties outside the US may vary. 

Contact your local authorized distributor for details.

Shipping: Weight: 265 lbs (including pallet)

Shipping Size: 60" x 30" x 25" (including pallet)
ACCESSORIES
Commercial Warranty: 1 year for all parts

Warranties outside the US may vary. 

Contact your local authorized distributor for details.